Post by dm60 on Nov 26, 2021 15:01:41 GMT
Somehow, Jim Green got a message from Dr Zazah Hobdi alerting him to a sum of $14M US ready to be paid into his account.
Green -> Hobdi
Dear Dr Zazah Hobdi

I think you have mailed me by mistake. I'm not expecting any payment

Regards
Jim
But it's not a mistake! The money is in an abandoned account.
Hobdi -> Green
Attn:Mr.Jim,

Sir,

I did not contact you by mistake and also i know you are not expecting any Payment. In brief, my office monitors and controls the affairs of all banks and financial institutions concerned with foreign transfer/ payments. I am the final signatory to any transfer or remittance of huge funds moving within banks both on the local and international levels in line to foreign transfer settlement.

Due to our Annual Account Balance, I discovered that there is an abandoned account in one of our late customers who has the same name with you (Jim Green) and all my efforts to relate to his family or relatives remain abortive.

And our Bank has issued me a notice to provide the next of kin or have the Fund confiscated within the next 14 working days based on the procedures of the Bank. That is why I seek for your help to move this fund out of our Bank to your country for future investment with a proper legal documentation. I have all the necessary papers to back you up as the next of kin to my late client, this funds will move perfectly with the participation of a foreigner like you.

At the end of the day, the funds would be transferred to your bank account if you have any question please do ask.

Please let me read from you so we can move ahead

Thank you

Zazah
Green -> Hobdi
Dear Zazah

Is your proposal entirely legal? I don't want to become involved in
anything that would tarnish my reputation.

Regards
Jim

Hobdi -> Green
Attn:Mr.Jim,

Sir,

Thank you very much for your message stating your interest to work with me. My proposal is real and in good faith with your extended hands of Good friendship and I hope you will accept my hands of friendship.

I assure you that everything will be handle in legal platform without any harm to you. You should know that I am a Banker and also humble man and trustworthy too,-But on the contrary I would like to secure a good future for my Bank hence the need to participate in this risk free deal-

I have already set this transaction on motion before i contacted you. All we need to do now is to change all the documents in your name to shield identity of true ownership of the fund and also a relative to our late customer. Once we are 100% with proper documentations, the Bank will have no other request than to follow the given instructions on the secured documents and release/transfer the fund to your Bank account. As soon as the transfer is made, the transfer documents will be provided to you so as to confirm the reflection of the fund.

All logistics are in place and all modalities worked out for the smooth actualization of the transaction within
fourteen working days of commencement and it is pertinent to state here that this deal is entirely based on trust and
the fear of God. It is important you learn that no risk is attached to this transaction, this matter is not illegal; all we need to do is to cover our tracks, which is possible with a legal backing.

Therefore, on receipt of your positive response, we shall then discuss the sharing ratio and modalities for claim; and the total amount involved US$14,000,000.00


Thanks in anticipation for your positive response.

Zazah
Green -> Hobdi
Dear Zazah

Am I understanding you correctly? You want to offer me a share of your
$14 million in return for my help?

What kind of assistance do you need?

Jim
Hobdi -> Green
Attn:Mr.Jim,

Sir,

Many thanks to your email. Your assistance is needed as following:

-Your names/information's will be used to process the fund transfer by way of documentations which will be obtained from Judiciary/Ministry of finance that will give you every right to receive the fund in your Bank account.

-Once the documentation are intact, your Bank accounts will be submitted to the Bank for the fund release/ transfer to your Bank account.

-On actualization of the transaction, the funds will be shared thus:
1. 40% of the Fund ($5,600,000.00) go to you for acting as the beneficiary of the funds and also cover your incidental expenses that may be incurred in the course of the transaction.
2. 60% for me which will be invested in your country under your care.

The bank is anxious now for me to present a beneficiary to the funds , because they have made a lot of profits with the funds. It is more than Eight years now, I don't want to retire from the bank without transferring the funds to a foreign account.

Thank you

Zazah
Hobdi -> Green
Jim,

Here is the deposit Slip of the fund ,I am releasing it to you based on the trust I have reposed on you.

Till i read from you

Zazah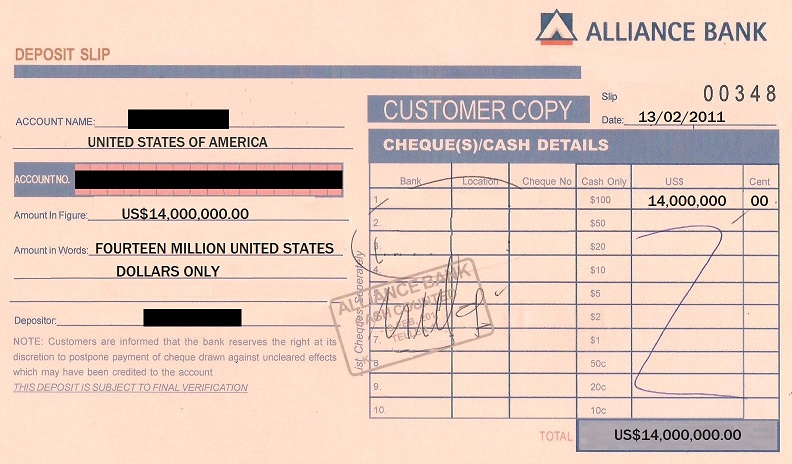 Green -> Hobdi
Dear Zazah

That sounds like a good deal. As long as its 100% legal, I could help
you with this project.

How do we get started?

Regards
Jim